Hello Newman Lake Community,
You are invited to attend a virtual version of our Annual Fall Open House on Wednesday, September 16, at 5 pm. Please download Zoom to your computer or smartphone, and access the meeting via this link: https://us02web.zoom.us/j/81782448965  Or via this phone/ID: 253-215-8782 ID: 817 8244 8965.
The agenda for this meeting is attached for your use. Looking forward to 'seeing' you next week!
Colleen S. Little, P.E.
Environmental Programs and Floodplain Manager, and,
Newman Lake Flood Control Zone District Manager
Spokane County Public Works Department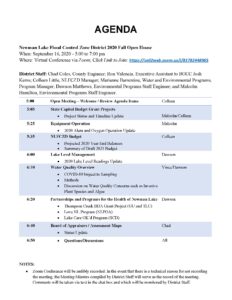 (509) 638-5895