Winter Roads Maintenance
Call the Public Works Department at 509.477.3600 to report on road conditions at Newman Lake if needed.
Spokane County has a pothole hotline – the information is taken from voicemail and sent to the correct district.
Pothole Hotline:  509-477-2547
What information should be reported: The road name and location of the pothole. It doesn't have to be exact, just enough that the road crews will be able to locate it.
How long until the report is acted upon:  These are typically taken care of within the week. Depending on what time of year it is, it could be more or less due to staffing or other work priorities.
Online Pothole Reporting form – CLICK HERE or IMAGE BELOW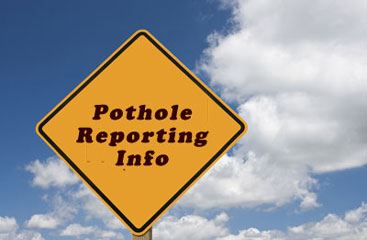 How/where does one report this kind of issue?
If you visit the Spokane county website, there is a location where you can turn in your concerns. They are put into an RFI (request for investigation) and put out to the maintenance district. The district supervisor will review and determine the priority for the repair based on budget, other work and priorities.
CLICK HERE FOR ONLINE REPORTING FORM
What do you need to report:  Photo, address/area description, etc. Basic information like Road name and location is needed. No photo needed.
 What is response time:  If you mark on the form that you would like a response back, you will typically receive that within 2-3 business days. For the actual work, it is determined by the district supervisor and the needs of the district. 
What is prioritized?
Spokane County works on our arterial and collector roads on a best first basis for preservation treatments (chip seal, overlays, crack seal, etc.).
This means that budget will first go to the roads in best condition so we can maintain the condition, the cost for maintaining the roads is less at this time then repairing roads that need to be reconstructed. For general maintenance, the roads are repaired through review of our RFI's, district staffing, budget and priority in district.
What is in the plan for Newman Lake?
For chip seal and patching, the plan is determined by our preservation group. Our chip seal roads are typically done every 8-10 years and the preparation is done 1 year prior to the chip seal. Some upcoming preservation work for 2022 is listed in the below. Crack sealing of these roads will be done this year (2021).
| | | | |
| --- | --- | --- | --- |
| Road Name | Limits | Length (miles) | Chip Seal Year |
| Hauser Lake Rd | East Newman Lake Dr to Muzzy Rd |  0.37 | 2022 |
| Muzzy Rd | Hauser Lake Rd to West Newman Lake Dr | 3.18 | 2022 |
| West Newman Lake Dr | Starr Rd to Muzzy Rd | 8.58 | 2022 |
In addition to the chip seal roads listed above, a grant was submitted for Starr Rd between Trent and West Newman Lake Rd. Spokane County should hear back whether we received the grant, and work would be done in the next 1-2 years.
How does one get in the plan if we are not?
There is not a way to "get in the plan" by asking for Preservation. Arterial and Collector roads are looked at on a regular basis and fit into the schedule. If there are concerns regarding maintenance or the condition of the road, the best way to voice concerns is by entering a Public Works request.
Spokane County Road Maintenance
Contact Public Works
Phone: 509/477-3600
Fax: 509/477-7478
Emergency: 9-1-1
24-Hour Pothole Line:
509-477-2547
Website: CLICK HERE
Office Hours
Monday – Friday
8:30 a.m. – 5 p.m.
Mailing Address
1026 W Broadway Avenue
Public Works Building
Spokane, WA 99260-0170