A VOLUNTARY COMMUNITY EDUCATION PROGRAM
PRESENTED BY THE NEWMAN LAKE PROPERTY OWNERS ASSOCIATION
DO YOU LOVE NEWMAN LAKE??
Do you enjoy lake life– boating, fishing, swimming, bird watching, etc.? Us too! That is why we have started the LOVE Newman Lake Program. The LOVE Newman Lake Program is an educational initiative started by local property owners to improve the water quality of our lake.
Newman Lake's water quality needs your help. By reducing our phosphorus inputs into the lake, each of us can help reduce algae, some of which can be toxic. Algae lessens the quality of our water and negatively impacts the activities we all enjoy
While our local Flood Zone District Advisory Board works with the county on specific tasks to clean up our lake (oxygen and alum input, milfoil control, etc.), there are plenty of actions EACH of us can do to help improve our water. Easy stuff, like scooping our dog's poop, changing our fertilizer regimen, using phosphate free soaps and detergents, etc.
Are you willing to learn what voluntary steps you can take? Join us!  Read about the programs below and decide how you and your neighbors can help!
LOVE NEWMAN LAKE
The voluntary program designed to educate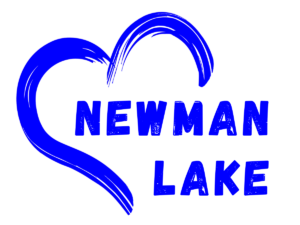 residents and friends of Newman Lake about water quality issues. All you need to do is read or view the presentation below; or attend a community presentation and you can receive a FREE yard sign, magnet, bumper sticker or window cling.
REVIEW THE PRESENTATION BELOW TO RECEIVE YOUR LOVE NEWMAN LAKE YARD SIGN! 
CLICK HERE to view the PDF version of the Community Education Presentation or view the video below!
Once you have reviewed the presentation send us your contact information to receive your FREE yard sign, magnet, window cling or bumper sticker!
Send email to info@newmanlakewa.com
Name, Address, phone and choice of one of the following:  6″x18″ yard sign, bumper sticker, magnet or window cling.
Done reviewing the presentation?
Send us your contact information to receive your FREE LOVE NL stuff!
Send an email to info@newmanlakewa.com
Name, Address, phone and your choice of one of the following:  6″x18″ yard sign, bumper sticker, magnet or window cling.
LAKE CARE OK'D
The Spokane Conservation District, the Inland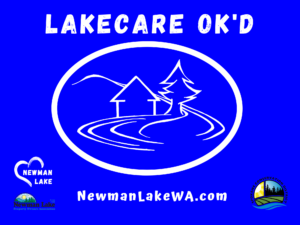 NW Land Conservancy and the Newman Lake Property Owners Association are providing a voluntary program to help property owners improve their impact on the lake's water quality.
Local volunteers from the Inland NW Land Conservancy will help you find solutions and improve your impact on the lake. If you accomplish 80% of the actions reasonably attainable on your land you earn a LakeCare OK'd yard sign. Find out how to schedule a visit and get your sign.
CHECKLIST: PDF Format or JPEG/Image format
Contact:
Lindsay Chutas
Spokane Conservation District-Water Resource's
Phone 509-535-7274
Email: lindsay-chutas@sccd.org

RIPARIAN RESTORATION & EDUCATION
A variety of past and current land uses within the Newman Lake watershed have contributed to a steady degradation in our local water quality. This has resulted in erosion and sedimentation, nutrient loading, loss of lakeshore vegetation, wetland destruction, and contaminated storm water runoff.  
In order to improve water quality and public health in these degraded areas, The Lands Council and Spokane Conservation District will be be helping private landowners at Newman Lake interested in implementing lakeshore restoration activities on their properties; and provide information on proper household fertilizer use and disposal, septic system maintenance, pet waste management, and lawn clipping disposal. These efforts will help stabilize the shoreline, filter pollutants coming off the land, and reduce elevated water temperatures. 
If you are interested in having someone conduct a site visit to better understand the potential for voluntary restoration planting of your shoreline property, please contact
Kat Hall at
khall@landscouncil.org
(509) 209-2403
or contact Spokane Conservation District
Lindsay Chutas
lindsay-chutas@sccd.org
(509) 535-7274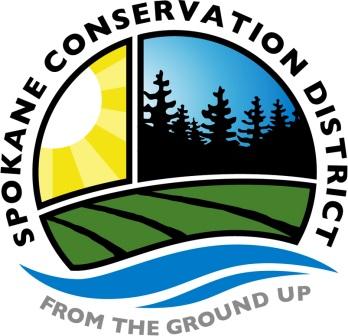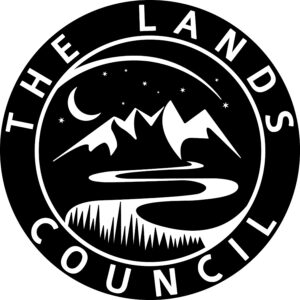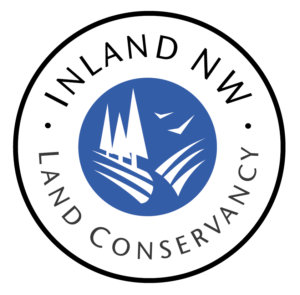 Publications
– NL C ommunity Education Presentation- PDF or Video
– Lake Care Ok'd Brochure – PDF
– Lake Care Ok'd Checklist – PDF or JPEG/Image
LOVE NL
Hello and thank you for visiting this page!  
The Newman Lake Property Owners and others mentioned on this page LOVE NL and want to make our lake a healthier lake to live and recreate on.
These are all new programs and may have a few bugs to work out in the beginning.  Please let us know what you would like to see, what we are missing to make these programs better.